He enjoyed photography, shooting still shots with a Leica and a Hasselblad and moving film in 8 mm color, considered very cutting edge at the time. He also spent his spare hours sketching in pencil and painting both in watercolor and oil. In addition, he played the piano for entertainment. He was an excellent tennis player, adored the beach and also became an avid cyclist. At one time he rode his bicycle from Los Angeles to Vancouver and return, camping on the beach on the way.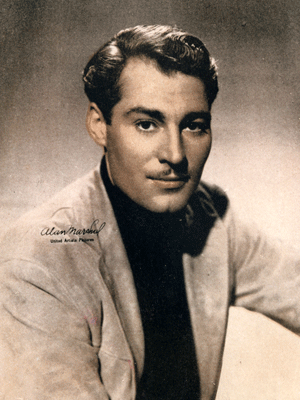 Some difficulties arose during his ceaseless touring around the country selling U.S. Treasury Bonds. His over-exhaustion coupled with his dislike of the "studio system" that was later to be abolished, might have contributed to a "nervous disorder" that kept him from working in films for several years. He also turned down films such as "Three Came Home", which was to be shot in Borneo, due to his illness.
Alan Marshal generally did not get on with Hollywood and never really fit into the mold. He did not like being loaned out to do films with ridiculous story lines, where he had no say so in the choice, and resented the studios for being able to do this; although he was compensated by being paid a great deal of money, his artistic side always disagreed. He was cast in some quite silly movies and bland parts that did not give him the opportunity to show his great sense of humor, although on the other hand, he appeared in many memorable and classic films.
He had another problem: his Australian citizenship. When the Second World War broke out all his fellow actors went off to fight in the war but he could not, as he was not a U.S. citizen. His friends at the time such as Jimmy Stewart, and many others, were all off at war and he had to stay behind. This must have been difficult for him at that time and he probably heard his fair share of spiteful comments, as every able-bodied man of his age was on the war-front.
He really wanted to go to Australia and join the army there, but his wife Mary Grace pleaded with him not to do this, as she would have had to stay behind because their baby was too young to make the long trip. Mr. Marshal was doing his share to help the armed forces at home in America, raising money for the war effort by helping to sell War Bonds and appearing around the country and meeting the troops at USO (United Service Organizations) canteens.
He had to go on constant and grueling "Bond Tours" and was presented with The United States Treasury Award, for the millions of dollars that he helped to raise for the war effort.
He resumed working in the 1950's and made many television appearances and some stage work and worked on a film for his friend Vincent Price called "House on the Haunted Hill", which is now considered somewhat of a cult film.
He passed away on July 9th 1961 in Chicago, after taking ill on stage while playing opposite Mae West in a play called "Sextette" which later became a film of the same name. His son, Kit Marshal, was also appearing in the play.